Mānoa: a major in Japanese obtains a scholarship from the Japanese government and will study for a year in Kyoto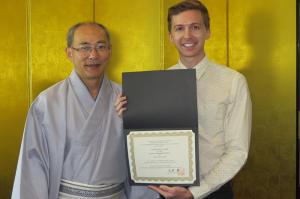 University of Hawaii at Mānoa
Contact:
UH Mānoa senior Joseph Cardello received the 2016-17 Monbukagakusho scholarship from the Japanese government's Ministry of Education, Culture, Sports, Science and Technology (MEXT). Cardello is one of the few undergraduates in the United States to receive the scholarship.
Japanese Consul General in Honolulu Yasushi Misawa officially presented the honor to Cardello in a ceremony on September 15. Cardello will study for a year in Japan at Kyoto University. The Monbukagakusho scholarship covers tuition and living costs, and also provides stipends.
Japanese instructor and MEXT coordinator Miki Ogasawara assisted Cardello throughout the application process. Said Ogasawara, "Joseph's fluency in the language is of the highest standard. All of us at the Department of East Asian Languages ​​and Literatures are delighted that he fulfills his dream of going to Japan for further education.
Cardello, originally from Londonderry, New Hampshire, moved to Honolulu to continue his education in Mānoa. "I had heard a lot about cultural diversity and foreign language programs at UHM. When I came for a visit, I was impressed with the depth of the Japanese program and very impressed with the faculty. My high expectations have been met and exceeded.
While in Japan, Cardello wants to learn more and gain a deeper appreciation for traditional arts such as chado (tea ceremony) and kabuki and no (theater). "After I graduate from high school, I plan to go to university to continue my studies in Japanese language and literature. Ultimately, I would like to become a Japanese studies teacher.
Recognizing those who made this achievement possible, Cardello said, "Instructor Ogasawara has helped me through the scholarship process and has been a great advisor throughout my time at UHM. I would also like to thank Japanese Professor Kazue Kanno and the members of the Consulate General of Japan.
(Full caption for group photo) From left to right, Masamori Kobayashi, Consul; Paul Iinuma, 2008 Monbukagakusho scholarship recipient; Yasushi Misawa, Consul General of Japan; 2016 Monbukagakusho scholarship recipient Joseph Cardello; Kazue Kanno, Japanese professor at UHM; and Miki Ogasawara, Japanese UHM instructor.
The College of Languages, Linguistics, and Literature (one of four Colleges of Arts and Sciences) at the University of Hawai'i at Mānoa offers an extensive program of study in English, Languages, and Literatures. foreign and heritage, in second languages ​​and linguistics. Its programs focused on Asia and the Pacific are unique in the country. The faculty regularly teaches over 25 languages ​​and has the capacity to teach many more. If you would like to support the college, please visit www.uhfoundation.org/GivetoLLL.